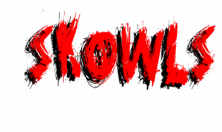 SKOWLS.....
is a musical project by T.R. LANG.
it has roots in punk, grind, ebm, jazz, electronica, and much more.








fans of groups like suicide, daughters, dive, the klinik, d.a.f., naked city, antischism, converge, doom, ghengis tron, the screamers, gorgio moroder, flying lotus, devo, nervous gender, synthpunk.org, gang of four, liquid liquid, liars, and any kind of dance-punk, post-punk, post-grind, post-music MUSIC will be sure to enjoy!

like --->
follow ------>>
support ---))>